11.07.2023
OMEGA Seamaster: Precision at Every Level
OMEGA salutes the family launched 75 years ago with an 11-watch collection, the Seamaster in Summer Blue, that celebrates water resistance.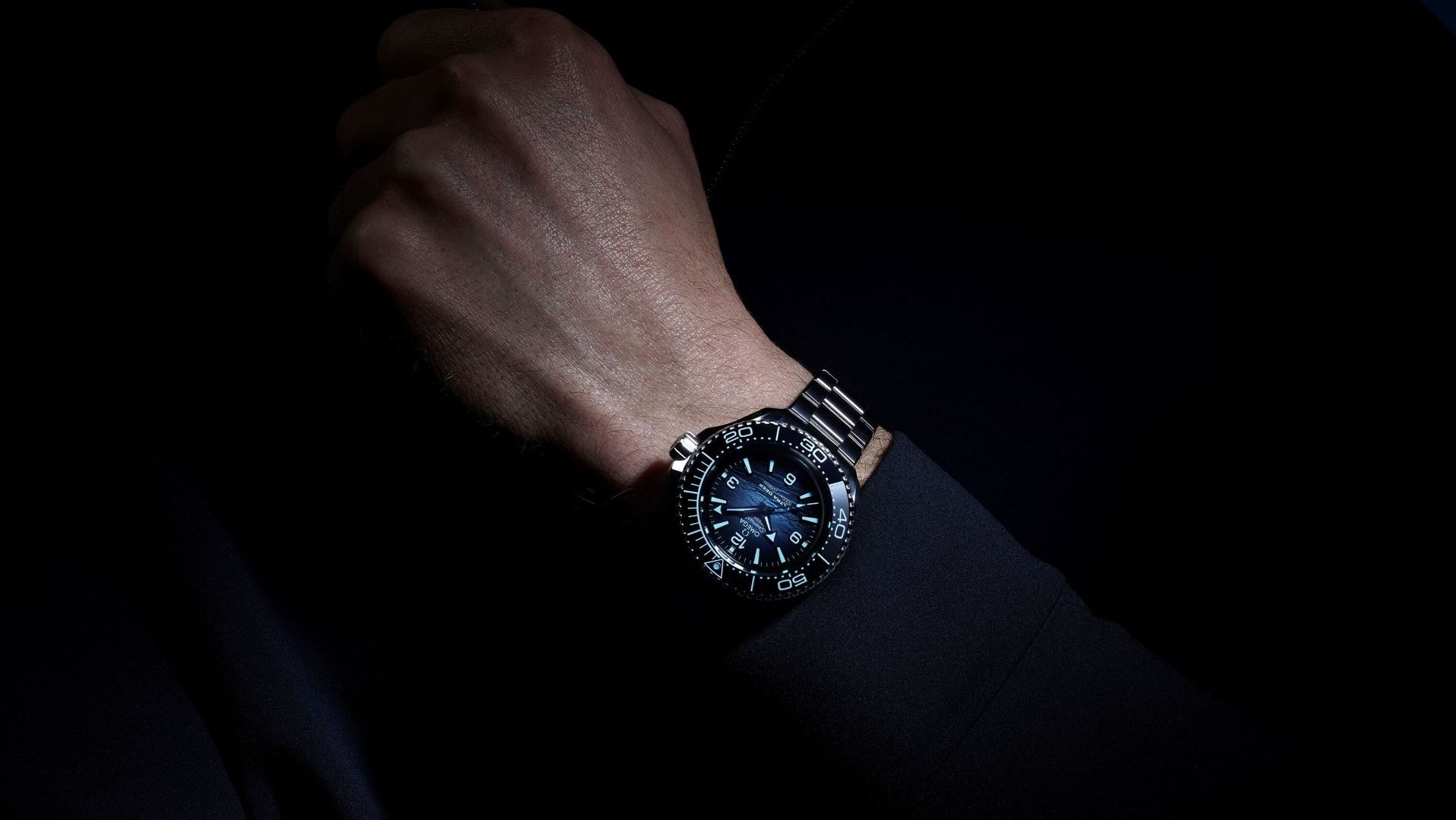 By Lifestyle Editor
Ultra Deep watch © Courtesy of OMEGA
To celebrate OMEGA's oceangoing icon, the Swiss brand has produced a new collection with bold dials that include a striking tone reminiscent of a perfect day on a boundless sea.
The seven iconic models - eleven watches in all – track a trajectory from dressy to serious dive tech. Common to all is OMEGA's Summer Blue, used in greater or lesser degrees to reflect the water resistance of each Seamaster and relate its depth-defying credentials at a glance: Aqua Terra represents the sun-drenched surface, Ultra Deep the dark abyss.
A Brief History of the Seamaster
The story of the Seamaster begins 16 years before it was born, with the launch of the OMEGA "Marine" in 1932 - the world's first divers' watch available to civilian divers. This ingenious timepiece successfully tested at 73 metres below the surface of Lake Geneva, also proved water-resistant at a depth of 135 meters, when pressure-tested inside the Laboratory of Watchmaking
Research in Neuchatel. This impressive start set the course for OMEGA's rapid advancements in underwater design.
During the years of WWII, OMEGA delivered more than 110,000 watches for the pilots, navigators, and soldiers of Great Britain's Ministry of Defence to support its Air Force and Navy pilots during service. That unprecedented experience allowed OMEGA to progress quickly in the fields of water resistance, anti-magnetism, and robustness, and create a series of watches that could withstand the harshest conditions. Famously, the MoD gave each watch a W.W.W engraving on the caseback, which stood for "Waterproof Wrist Watch".
Launched in 1948 to coincide with OMEGA's 100th anniversary, the collection blended battle-proven technology with an elegant exterior to produce a watch for "town, sea and country."
It soon became clear which word of the three would define its future. In the heady rock 'n' roll years, a decade of optimism and exploration, the Seamaster came into its own as the watch of choice for undersea adventurers. The starting point for this new trajectory was the Seamaster 300, released in 1957.
Wave after wave of extraordinary models followed. Each offering exciting new designs, innovative technologies, and even greater levels of water resistance. Along the way, the watch with the distinctive seahorse logo would play a key role in ocean exploration and conservation, as the timepiece of choice for the curious and the deeply concerned.
Today, OMEGA is able to test every one of its water-resistant watches in a real underwater environment, thanks to the brand's industry-leading facilities and the certification standards set by METAS (the Swiss Federal Institute of Metrology).
These timepieces, launched to mark the 75th anniversary of the Seamaster line, pay tribute to an extraordinary history of innovation, exploration, ocean-tested performance and design.