29.08.2019
Up Close & Personal: Rashid Hasnan
2017 SEA Games Gold Medalist for polo talks exclusively to GC on what does it takes to be a champion, elegance, and his future plan for polo.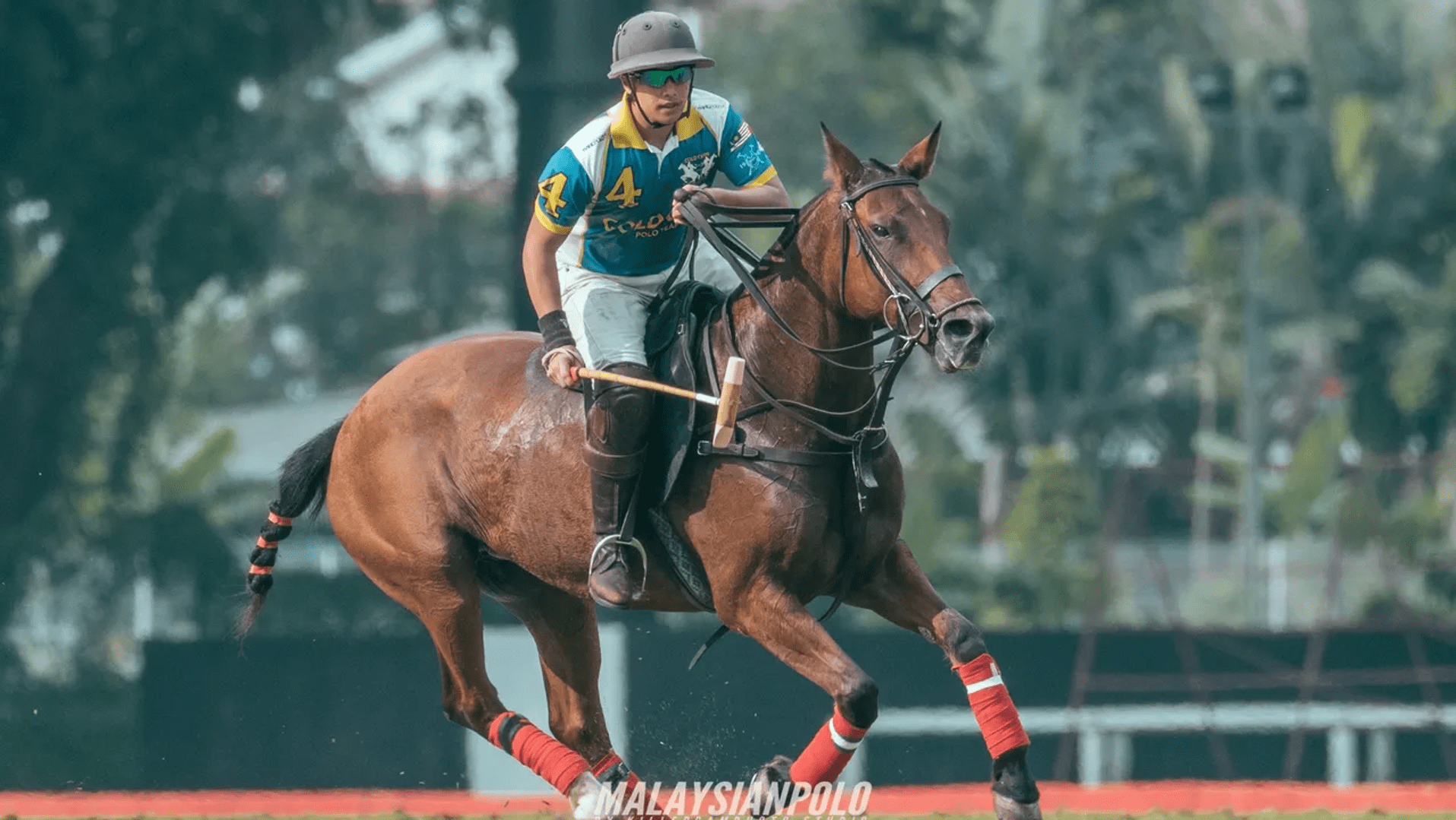 By GC Editor
One of the oldest team sports, polo is considered to be an elegant game and a sport favoring the elite society. A 'gentleman's sport' as it is called, polo might involve huge risks but there is not a single soul who would not give up anything to face the challenges of the game.
With that in mind, GC brings to you an exclusive interview with Rashid Hasnan, a professional Malaysian polo player, who with blood, sweat, and tears won a gold medal for polo and made Malaysia proud at the 2017 SEA Games, Malaysia.
Rashid, in 2018, you were awarded GC Men of the Year - Breakthrough Sportsman: you are accustomed to living sport at its highest levels. What does it takes to be a champion?
Firstly, I'd like to thank you for the recognition and I feel very flattered and honored. To be a champion, I believe you need the right mindset and the right intentions. For me, I'm very passionate in my sport, it drives me to be on my toes and to be my best. Determination is also a very big part of it. I train every morning and afternoon to improve my skills and techniques. Lastly, I'd like to share my success with my coach, Shaik Reisman, without him I would not be the athlete I am today. He has taught me everything I know since day 1.
You have on numerous occasions voted as the Most Valuable Players (MVP) from the polo tournaments held at the Royal Selangor Polo Club. How did you attain excellence in this sport?
Knowing my strength and weaknesses helps me a lot in this aspect. I use my strength to my advantage on the field and improve in what I lack in polo. And, I have to say keeping my horses fit and trained is also one of the biggest part of this sport, if not the most important part.
Sport and style often go hand in hand. Which sportsmen do you consider as examples of elegance?
Facundo Pieres, my idol and the best polo player so far. In polo we have to follow a certain dress code while in the field, he makes sure every aspect is pristine even the slightest detail from the helmet, belt and to his boots. Off the field, his style is classic. Can never go wrong with a well fitted buttoned up shirt and a pair of tailored pants. More or less like my own flair.
For GC, elegance goes beyond appearance: it includes aspects of manners, thinking, and actions. What do you think makes a man truly elegant?
The elegance of a man comes from the way he talks and treats others. As a young man, talking with confidence can be difficult at times but I remember my strength, similar what I use in the field and put that on the table when I encounter others. I believe every man should be confident and that will radiate the elegance of a man.
What was the most recent "gentlemanly gesture" that you made for someone?
Haha, I believe that "gentlemanly gestures" should be unified in a man's daily life. It might not be a grand gestures but the small gestures also matter. I always open the door for my fiancé, which is the small gestures that I've recently made. But for big gestures, I believe it was the time that I recently cooked a gourmet dinner for my fiancé and my in laws to be.
A gentleman always strives to make a society a better place. What is your current plan in uplifting the perception of this gentlemen sport for the country?
My company, Alegra Consultancy, is set to organize some polo tournaments in Malaysia in the future. Moving forward, I will strive to collaborate with reputable brands that can further the excitement of polo and try to make polo an exciting event on people's annual calendar. As for polo, I seek to play polo outside of Malaysia as much as I can, to put Malaysia on the map for our polo seasons as well.
In your work you must rise to new challenges all the time. What are the new challenges facing you in the future?
Being a professional polo player in Malaysia itself is a challenge, being in a sport that is said to be made for kings, it sets a stigma of being an expensive sport and inaccessible to the public eye. It drives people away and it makes it harder for anyone in the polo industry to gain any form of traction. Therefore, I will do my best to bring the sport up in this country.
READ MORE: Want to learn Polo in KL?
Outside of work life I also face a new challenge that not many young men would go through early at this point of time. The challenge of me being capable enough mentally, physically and financially for my Mrs. to be! I'll soon to be wed my beautiful fiancé, Filza Ong, 22, a youth activist and a fresh graduate. A challenge that we both are looking forward to, being young and acquiring the world together.
Congratulations Rashid! GC has compiled a series of codes that a gentleman follows by instinct. Which do you think is the most important rule for a gentleman?
Loyalty. Loyal in every aspect in a gentleman's life is important. Firstly, being loyal to yourself, never compromise anything in life that can refrain you from reaching success in life. By being loyal to the people around you creates a healthy surrounding that radiates mutual respect that can drive you with positivity every day. It will come worthwhile in a lot of aspects in a gentleman's life, such as work, relationships and many more as a gentleman evolves.
Thank you Rashid for your time.
You are welcome. Catch up with you next time.
Follow Rashid's Instagram: rashidhasnan
READ MORE: Why Polo is One of the Hardest Sports On the Planet