14.03.2021
John Legend receives 2021 Alumni Achievement Award from Wharton
Legend, an undergraduate alumnus, was recently honored by Venture Lab, the University's entrepreneurship center, during a virtual livestream event.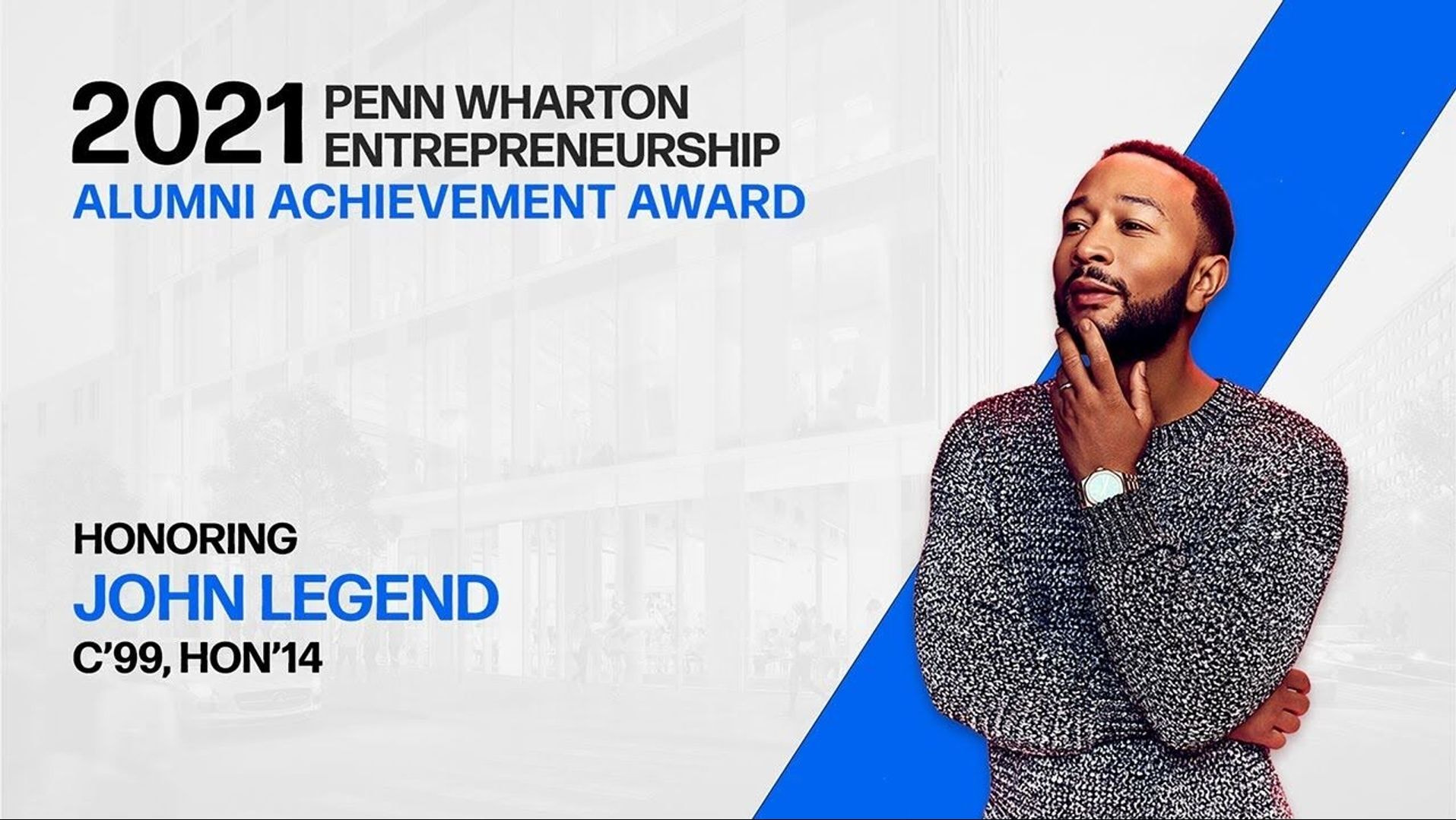 By Dee Patel
Picture: Penn Wharton Entrepreneurship 2021 Alumni Achievement Award livestream (Clockwise from top left) Wharton Vice Dean of Entrepreneurship and Innovation Karl Ulrich; John Legend; Wharton alumni, Ravi Viswanathan; President Amy Gutmann; Wharton Dean Erika James
The Penn Wharton Entrepreneurship 2021 Alumni Achievement Award event featured a live virtual fireside chat with recipient John Legend on March 3. Moderated by Wharton Dean Erika James and introduced by President Amy Gutmann, the event focused on entrepreneurship as a platform for innovation and change, and included an update on entrepreneurship at Penn from Wharton Vice Dean of Entrepreneurship and Innovation Karl Ulrich.
Venture Lab, the entrepreneurship and innovation center for students and alumni at the University, honored Legend for his entrepreneurial accomplishments, interests, and talents. Ulrich says Legend is a particularly appropriate recipient of this year's award, and exemplifies two distinct pillars of the Venture Lab mission.
"First, he's a graduate of the College, reflecting our hope to support the entire University," Ulrich said. "And second, he's applied entrepreneurial approaches to important areas outside of business."
Said Gutmann: "He is an innovative champion for social change, who boldly declares things must change. In 2007, he started the Show Me Campaign to close education gaps that disproportionally affect minority and low-income children. And he also created LRNG Innovators to invest in educators shaping the future of education. And I haven't even mentioned his musical genius. He is the first Africa American man and the second youngest member of that rare group of entertainers who have attained EGOT status, winner of Emmy, Grammy, Oscar, and Tony awards."
Legend graduated magna cum laude from the College of Arts and Sciences in 1999, and is a 2014 Penn honorary degree recipient. He is also a former Penn commencement speaker, and advisory board member for the Quattrone Center for the Fair Administration of Justice at the University of Pennsylvania Carey Law School. In 2014, Legend launched FREEAMERICA, a multiyear culture change campaign focused on ending mass incarceration.
Legend's story is not one of overnight success, but of savvy moves that gave him the opportunity to pursue his passion, including working a safe corporate job for years while hustling through countless rejections and doing music on the side.
As he prepared for life after college, he watched many of his friends become bankers and consultants. He followed in their footsteps, taking a job at the Boston Consulting Group.
"I get this offer, it was for $50,000 a year," he said. "And $50,000 was just like a staggering amount of money for me. So I get this offer and I am like, 'Well, I got to take this.' I knew I wanted to be a full-time musician eventually."
He spent his workdays preparing PowerPoint presentations and financial models, and his work nights writing songs and performing at small gigs around New York and Philadelphia. Legend's big break didn't come easily or quickly, and took years of working on his craft and developing relationships. After college, Legend kept in close touch with his roommate and Wharton alumnus DeVon Harris, who introduced him to his cousin, a producer from Chicago named Kanye West.
"While I was working at BCG New York in the daytime, I would go to the studio at night and write with Kanye West," recalled Legend. "He was working on his demo, which eventually became 'The College Dropout.' I was working on my demo, which eventually became 'Get Lifted.'"
From a young age, Legend aspired to use his position in the entertainment industry as a platform for social change. In an essay competition Legend won at age 15, he wrote of his dream to become a star recording artist and to use his influence and resources to give back to his community.
"And my answer was, in 500 words or less, that I was going to make it in the music business, become a successful artist, and use my platform to fight for justice and equality for my people," he said. "One day my dad said, 'Johnny, do you remember that essay that you wrote?' I read it, and I was almost in tears reading it, because it was so prescient. It was saying exactly what I ended up doing in my life, and I hadn't thought about it for so long, and it was really moving to me that, even when I was 15, I was thinking about that."
And that is exactly what he has done—throughout his career, Legend has committed his time, energy, and resources to social justice and equality.
For well over a decade, his philanthropy and advocacy has focused on building just, equitable, and thriving communities. In 2007, Legend started The Show Me Campaign, to give every child access to a quality education as well as address systemic issues in the criminal justice system that disproportionately impact the poor, minorities, and disadvantaged.
"I was always so interested in reading about civil rights heroes, people who fought for justice and fought for equality. And it always struck me that they lived really impactful lives, and I wanted to live an impactful life," said Legend.
Legend launched LRNG Innovators in partnership with The National Writing Project and support from The MacArthur Foundation. Its mission is to empower teachers to redesign learning—connecting students' passion to purpose—helping the students of today be better prepared for the world of tomorrow.
"Our teachers, they do such difficult work, such challenging work, and they're often underappreciated, underpaid, under-rewarded, undervalued by our society, and we know that they're so important to our young people's education," he said. "So through LRNG, we actually reward the teachers with money, and we do a great job, hopefully, of storytelling by sharing the work that they're doing with other teachers around the country and giving them an opportunity to learn from each other."
Since inception, LRNG Innovators has invested in more than 30 educator teams across the country.
In 2014, Legend launched FREEAMERICA, a multi-year culture change campaign focused on ending mass incarceration. FREEAMERICA works to amplify the voices of those impacted by the criminal justice system and those working to change it in an effort to challenge stereotypes, break down barriers, and end the era of mass incarceration.
"The U.S. is home to less than 5% of the world's population, yet nearly a quarter of all incarcerated persons are in U.S. prisons, the most prisoners per capita in the world, and a majority of them are Black or brown," explained Gutmann. "The damage done is beyond counting, families shattered, communities shredded, and opportunities crippled. But in the past year, we have seen the largest mass movements for racial justice in generations rising up against such systemic racism. The 2021 winner of the Penn Wharton Entrepreneurship Alumni Achievement Award has led the way forward."
"When they've come out of prison and they're trying to reenter society, they need the opportunity to contribute to society, whether it's getting jobs, creating jobs as entrepreneurs, voting, getting housing," said Legend. "A lot of them were hustlers in their own way, in a more illicit way, before they went to prison. We want to give them an opportunity to create jobs and use that entrepreneurial spirit in a way that's legal and adds to their community rather than detracting from it."
Toward the end of the event, James asked Legend to give some "words of wisdom for aspiring entrepreneurs."
"So much of what is going to happen in the beginning of your entrepreneurship is that you are going to be told 'No, you're not ready yet' and told to wait," says Legend. "Take the feedback, learn from it, grow from it, and be persistent. Have grit, have determination, have perseverance, and resilience. That will get you through all your 'Nos' until your 'Yes' comes."
This article originally appeared on: https://penntoday.upenn.edu/news/john-legend-receives-penn-wharton-entrepreneurship-2021-alumni-achievement-award