25.07.2021
Santorini Wellness Oasis at Mystique in partnership with OPO App
This partnership has been created to give travellers an immersive meditation programme, that Mystique guests will have exclusive access to the customized sessions, whilst they relax in the Greek haven, surrounded by the deep blue waters of the Aegean Sea.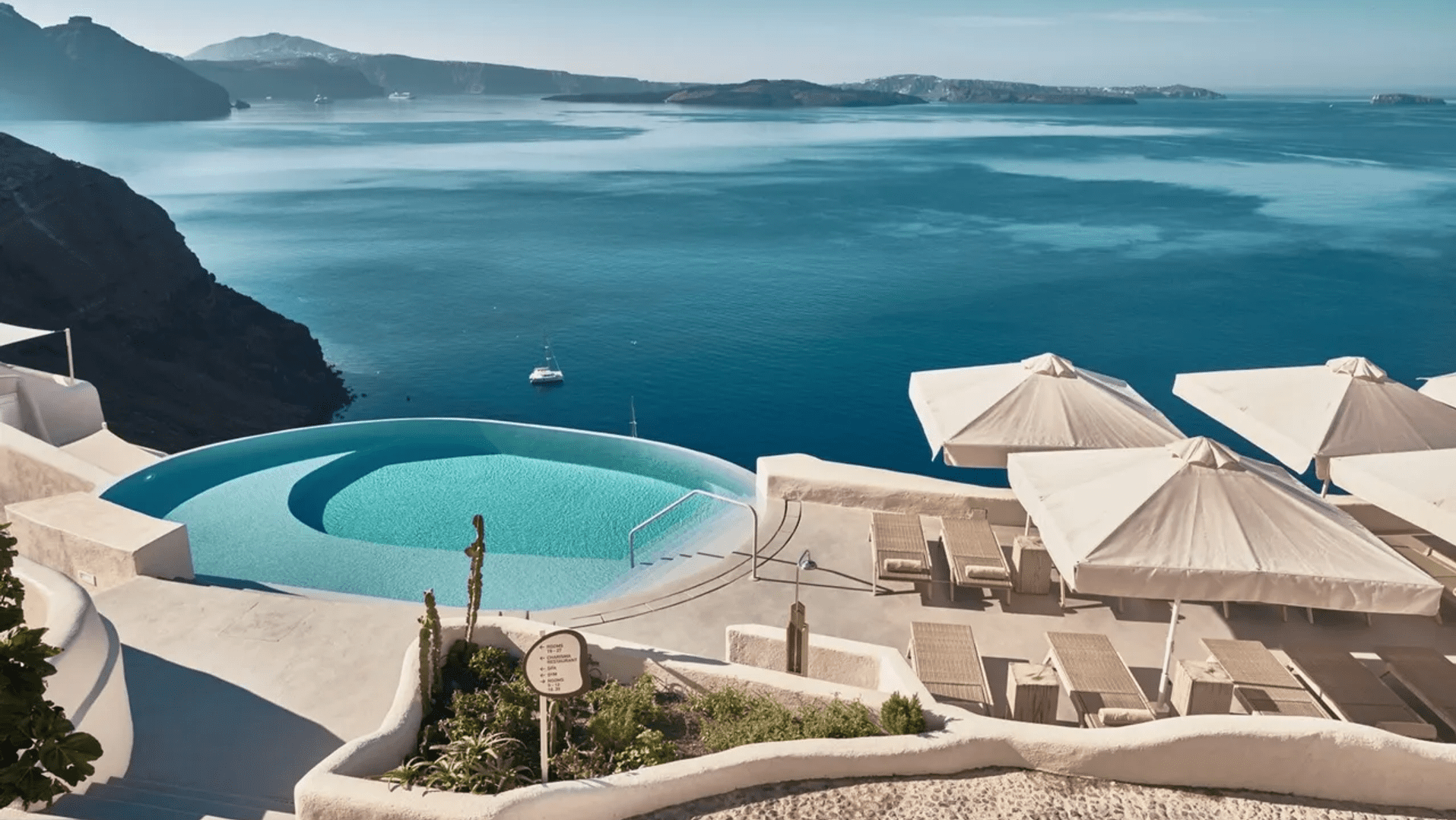 By Lifestyle Editor
Perched on the Caldera cliffs of Oia, Mystique is partnering with OPO wellness and technology studio, to create an immersive meditation programme for its guests to experience, that will have exclusive access to the customized sessions, whilst they relax in the Greek haven, surrounded by the deep blue waters of the Aegean Sea. Kanava Hotels & Resorts Founders, Kalia & Antonis Eliopoulos have always endeavored to ensure that their guests are completely relaxed and immersed in their resorts' surroundings, which is what OPO's Founder, Chris Connors has now enabled through the form of meditation.
Mystique is surrounded by an extraordinary natural landscape, creating the perfect location for practicing and cultivating stillness through the artform of meditation. Mystique's guests may participate in OPO's 'Today' and 'Learn To Meditate' sessions, guided by Chris who has an impressive twenty years experience as a meditation teacher, paving the way in the wellness industry. Once guests have booked their stay at Mystique, they receive a unique link to take them to the OPO app, where they may listen to a pre-arrival meditation session, whilst on their journey to Mystique, to limit the stress of travel.
Upon arrival, guests will become fully immersed into the laid-back Santorini lifestyle, which exceeds all expectations of the definitive Grecian paradise. During their stay, Mystique will offer guests the opportunity to take a tranquil stoll through the cobbled streets of Oia, to capture the beautiful sunrise on the island. The sunrise trail pairs beautifuly with the 'Morning Rise' eyes-open mediation which is designed to boost our feel good hormone, serotonin and instill a relaxed, yet focused state of mind. A post-stay reflection session has also been created to make the transition from a holiday to home effortless.
OPO's meditation programme will allow guests to connect with the captivating surroundings that Mystique provides. The 'Today' meditation programme balances the physical, mental and emotional state of the mind, which is split between 4 sessions; Morning Rise, Daytime Chill, Evening Reflections and Night Sky. These sessions aim to revive a wellness spirit within each guest, they are supported by neutrally enhancing soundscapes, breath work methods and eyes-open techniques maintaining the principles of barefoot luxury on which the hotel was founded since it first opened in 2007.
The 'Learn To Meditate' programme is designed for those who are familiar with the benefits of meditation, but have not yet experienced them. Regular users of meditation will also enjoy the sessions, too, as it will allow the travellers to go back to the foundations of their practice, cultivating new perspectives as they embrace the island's carefree lifestyle, to be utterly relieved from stress. 'Learn To Meditate' is also split into four sessions to help guests train their mind to achieve mental and physical wellbeing. The sessions start at 4 minutes and progress to 6, then 9 and 12 minutes.
OPO founder, Chris, will be travelling to Mystique on the 1st – 3rd September to perform in person teaching and coaching classes for the travellers. He will be leading a variety of classes from each of the two programmes listed above.
In addition to this wellness collaboration, Kanava Hotels & Resorts continues to cater to the evolving needs of their travellers as holidays resume this summer. Private Suite and Villa escapes are ideal for the romance seekers, as well as your nearest and dearest. The guests do truly encounter the benefits of a personalised experience in one of the brand's ethereal hotels, Mystique. For further information, please visit https://kanavahotels.com/destinations/.
The process of experiencing the meditation sessions starts with the guests booking. Once their stay has been confirmed, they receive a personalised link to the OPO app where they enter their own unique username and password to allow them to access the sessions, ready for them to explore.
'Today' sessions include:
Morning Rise: a guided meditation infused with 3D sounds that actively promotes greater brain activity and a release of serotonin that can be maintained throughout the rest of the day as the guest wakes up.

Daytime Chill: helps maintain a chilled vibe by listening to further calming sounds, tones and words during the day to keep in one's best, most relaxed state.

Evening Reflections: this meditation allows decompression by reflecting on the day with appreciation. Deeper 3D sounds allow for greater melatonin release pre-sleep.

Night Sky: with the night sky lit up with bright stars in Santorini, this meditation is infused with sounds of stillness that give the guests that night time feel, ahead of them falling asleep.
'Learn How To Meditation' sessions include:
4 minutes: begins by holding their attention to breath and body. Being present in the mind but not being swayed by it.

6 minutes: allows to build up practice by adding more breath work and holding attention still for longer.

9 minutes: this session gives time for mindful body scan and added breath work.

12 minutes: longer session which allows guests to fully scan their body in motion and attitude with breath exercises.