08.08.2022
KLFW 2022 Celebrates 10 Years at Pavilion Kuala Lumpur
A decade of fashion revolution as KLFW 2022 celebrates 10 years at Pavilion Kuala Lumpur.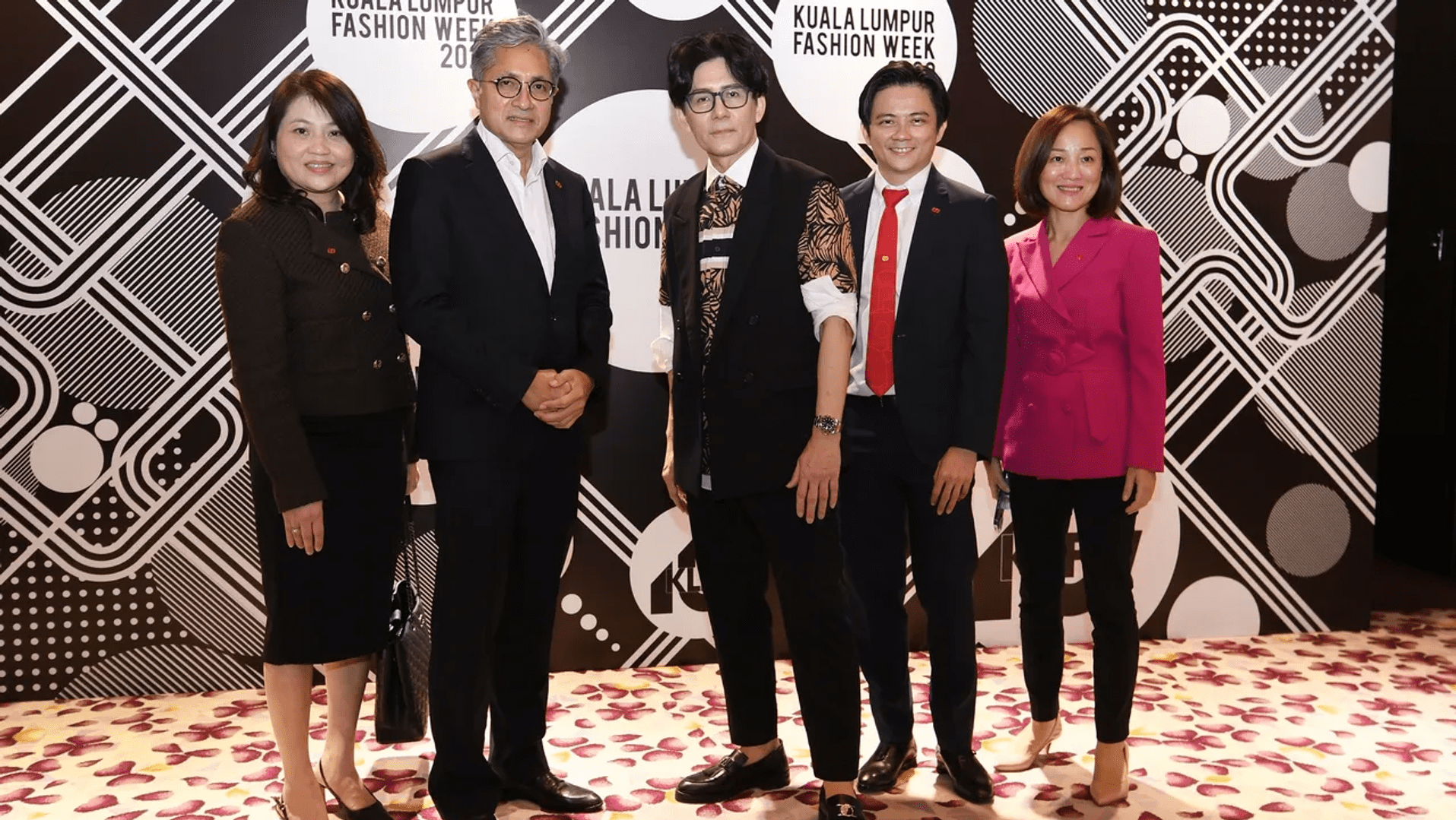 By Lifestyle Editor
After taking part in the grand spectacle both physically and virtually last year, Kuala Lumpur Fashion Week (KLFW) makes an ostentatious comeback this year at Pavilion Kuala Lumpur, celebrating its 10th year as one of the city's most anticipated events. KLFW will feature more than 40 local designers' ready-to-wear collections on the runway from 17th August to 21st August 2022.
Since its inception in 2013, KLFW has provided platforms for Malaysian designers and the local fashion industry to unite, celebrate, and honor each homegrown designer's collection. Built on the concept of Malaysia for the world, KLFW has helped numerous young Malaysian designers break into the global fashion industry while cultivating a network of fashion-forward individuals throughout the years. Whether it be ready-to-wear, avant-garde, couture, or athleisure, KLFW has established itself as the pinnacle of fashion in Malaysia by showcasing every style, trend, and outrageous performance on its catwalk at Pavilion Kuala Lumpur, a significant collaborator in the fashion industry.
Coming out of the pandemic in 2021, KLFW managed to continue its advocacy for the fashion industry. It managed to showcase 48 homegrown designers' ready-to-wear collections through a series of shows digitally, and physical shows which took the runway in November last year. Through discussions with important industry players, KLFW aims to continue identifying solutions and consider ways to assist the Malaysian fashion industry in adapting, evolving, and continuously enhancing productivity, innovation, and creativity.
Part of KLFW this year to look out for are the #iAmMalaysian Campaign by AmBank, Designer Search and Model Search by Samsung, which will present The KL 10 Designer Search, as well as a collaboration with Mimpikita. A Doodle Decal Contest by Vespa Malaysia, along with many more exciting activations by Poh Kong, which is collaborating with our Malaysian designer Jimmy Lim, Isuzu Malaysia, which is collaborating with Super Sunday, and Moccona Coffee, collaborating with Khatreena. Also, a partnership with AirAsia Academy.
"When I started Kuala Lumpur Fashion Week back in 2013, I knew that it would be a tremendous risk and a huge undertaking. I had previously worked for other Event Organizers with regard to Fashion Weeks and I had so many reservations in terms of the benefits it gave to Malaysian Designers. I had a completely different Vision in mind and Kuala Lumpur Fashion Week should serve the following. We set out 3 Parameters: 1st is to Create Tremendous Interest in Malaysian Fashion, 2nd is to bring awareness to the Ready-to-Wear Collection as an addition to the Designers' Made-to-Measure Business Model and 3rd, to find ways through networking and knowledge sharing, to maintain the viability of the Malaysian Fashion Industry. I am proud to say that Kuala Lumpur Fashion Week had achieved all 3 Parameters that we had set for ourselves and with 2022 being out 10th Year – it's the closing of an amazing fashion chapter" Andrew Tan, Founder of Kuala Lumpur Fashion Week.
"Our sponsors this year are Pavilion KL, AmBank, Samsung, Vespa, Isuzu, Poh Kong, Moccona and TIMEdotCom. Along with our partners, AirAsia, Brandavision, shu uemura, Oribe/Miko, Nobel, Glam and Harper's Bazaar. Each of them has something unique to contribute that transforms the way we work, interact with one another, and the use of technology," said Tan.
"While the shows are the glamourous aspects of KL Fashion Week, we are heartened by the success we have seen in budding local designers, some have gone on to become established brand names with retail stores in our malls. The positive impact on the Malaysian fashion industry as a whole is undeniable and Pavilion Kuala Lumpur is proud to be a part of this important legacy," said Ms Kung Suan Ai, Director of Marketing, Pavilion Kuala Lumpur.
"We are pleased to once again support our Malaysian designers through KLFW which is an important platform for local talents to shine and gain access to global opportunities, while showcasing to the world our unique Malaysian culture, heritage and diversity. It is imperative for banks to play a role in supporting the local fashion industry, as it acts as a catalyst to spur growth in the retail sector for nation-building. We have stepped up to champion this by partnering with KLFW as we continue to lay a strong foundation in providing opportunities for these businesses to thrive in challenging landscapes. This would also serve a strategic avenue for us to further promote and amplify our suite of lifestyle offerings to our most discerning clientele who constantly seek to enhance their financial portfolio and at the same time elevating their affluent banking experience with us," said Dato' Sulaiman Mohd Tahir, Group Chief Executive Officer, AmBank Group.
"We at Samsung Malaysia are thrilled to be part of Kuala Lumpur Fashion Week once again as we share the same aspiration and goals of invigorating the emerging generation of talented Malaysian designers. We have seen remarkable talent emerge with stunning and creative interpretations, synonymous with owning a Galaxy Z series device that is built for self-expression, whilst combining modern functionality. We would like to extend our heartiest congratulations to KLFW on its 10th Year Anniversary!" Elaine Soh, Chief Marketing Officer of Samsung Malaysia Electronics.
"As an icon of Italian lifestyle, Vespa is leading the way, inviting the modern world shapers to bring to life their colorful story with Vespa. Brave and intrepid individuals show their true colors and take pride in telling their own story. Now is always the perfect opportunity to live to the fullest, express yourself freely and transform your life into an optimistic, beautiful and exciting experience. Kuala Lumpur Fashion Week together with Vespa being the muse of fashion and style since its birth, evoke vitality, sophistication and joyfulness. What you wear is how you present yourself to the world, especially today, when human contacts is so quick. Fashion is instant language. LIVE FREE. LIVE COLORFULLY! Move the world with your color!" Mr Rewi Hamid Bugo, Chairman Didi Group.
Edit Image
"The Isuzu D-Max have elevated the concept of pick-up truck ownership to a whole new level. Its bold and vibrant design that suggests a go-anywhere, do anything capability engages with us in our passions and ultimately defines the concept of the bigger, the better. With the Isuzu D-Max X-Terrain, there is the added dimension of refinement, sophistication and attractiveness that has rarely been showcased in vehicles of this nature. Through a common appreciation of designs that impress definitive form and function, the Isuzu D-Max X-Terrain is proud to carry the title of The Official Ultimate Lifestyle Vehicle Sponsor" said Kenkichi Sogo, Chief Operating Officer of ISUZU Malaysia.
"Poh Kong, as Malaysia's largest and fashion-forward jewellery brand, is honoured to partner with KLFW, the most anticipated fashion event of the year. It is incredibly exciting to showcase our house brand, Tranz, the first and leading home-grown designer gold jewelley brand in Malaysia. Along with the ready-to-wear collection specially designed by Malaysian renowned fashion designer for Tranz latest statement jewellery pieces, it is going to be a brilliant event to shine a light on the creativity and innovation of the local fashion industry," said Elizabeth Choon, Marketing Manager, Poh Kong.
Coffee beverage sponsor Moccona Coffee (brand by JACOB DOUWE EGBERTS (JDE) Coffee Malaysia) will be serving a delightful range of coffee beverages such as Hazelnut Latte and Vanilla Latte created with the brand's coffee variants such as Number 5 Classic Medium Roast, Number 8 Classic Dark Roast and Number 10 Espresso Style throughout Fashion Week. Moccona Coffee will also be collaborating with renowned local designer, Khatreena by Yang Amat Mulia (Y.A.M) Sharifah Khatreena Nuraniah binti Tuanku Syed Faizuddin Putra Jamalullail, where Khatreena will be showcasing 10 unique designs inspired by Moccona Coffee's coffee variants catering to individual preferences with different coffee intensities.
"Moccona is pleased to partner with KL Fashion Week 2022 as the official coffee beverage sponsor and we are proud to celebrate this much-anticipated event with the Malaysian fashion community, at the same time inspiring fashion enthusiasts with our wide range of coffee that comes with different intensities catering to individual preference. This year, we are ready to 'brew' something exciting with renowned local designer Y.A.M Tengku Sharifah Khatreena, who believes in versatile and flexible style and share the same mission with Moccona Coffee in promising personalised moments of elegance to all coffee lovers" said Phoon Shi Fun, Head of Marketing for JDE Coffee Malaysia.
This year, TIME joins KL Fashion Week 2022 as the official telco partner. The telecommunications provider delivers domestic and global connectivity, data centre, cloud computing and managed services to customers across ASEAN. Powering TIME's businesses are its fibre optic network assets that span Malaysia, Singapore, Thailand, Vietnam and Cambodia – countries in which it has an established operational presence. The brand's network extends beyond the region to deliver international connectivity via its stakes in the UNITY, FASTER, Asia Pacific Gateway (APG) and Asia-Africa-Europe-1 (AAE-1) subsea cable systems.
AirAsia returns to the "runway" this year in celebration of Kuala Lumpur Fashion Week (KLFW)'s 10th year anniversary with the first ever collaboration between KLFW and AirAsia Academy, the edutech arm under Capital A Berhad (formerly AirAsia Group). With the mission to combine the elements of fashion, technology and education, AirAsia Academy embarks on a partnership with KLFW to provide exclusive insights into the world of fashion and the talents behind them. AirAsia Academy's newly launched On-Demand Learning (ODL) platform will feature a designated KLFW channel as the official content aggregator for all things fashion.
This year, Kuala Lumpur Fashion Week will also witness a partnership with the winner of the Most Stylish Female Celebrity 2021 at the Anugerah Fesyen Kuala Lumpur 2021, Scha Al-Yahya. An actress and TV personality known for her impeccable taste in fashion, Scha will be releasing her own unisex perfume brand called Homage under Nobel. According to Scha, "KLFW is the best platform for us to give a sneak preview of Homage due to many reasons. For one, it is the only event in the country that focuses on pushing forward Malaysian talents, not just designers but everyone involved with the retail industry, to become better at their craft and to be known as an active player of the industry. I am truly honored that KLFW has agreed to partner up with Homage this year despite us being new. I hope that this affiliation would continue for many years to come".
Every Fashion Week is never complete without it's Official Hair and Makeup Partner!
This August, shu uemura will be bringing artistry & color excitement where you can experience the new unlimited mopo nude compact powder foundation and play with colors featuring shu uemura's iconic rouge unlimited lipstick range. As mr. shu uemura once said; makeup is fashion for your face – so while you're there, find out more on how to sign up for shu uemura's Makeup Workshop! Head over to the Entrance of KL Fashion Week, Level 3 from 17-21 August to experience shu uemura's crafted in Japan artistry! Consumers can also head over to shu uemura's boutique at Level 4, Pavilion KL where you can discover shu atelier makeup artistry. Snap photo at shu uemura's GIF photobooth and share it on social media to receive a complimentary gift! Plus, you may be one of the 3 daily lucky winners to receive a full-size gift from shu uemura – only available at shu uemura boutique in Pavilion KL from 17 - 21 August!
"Oribe, an international brand with 30+ Global awards, is proud to be the Hair Partner for KLFW 2022 - the most reputable fashion event of the year. Established in America by founder Obrie Canalle, one of the most sought-after celebrity hairstylists in the world with countless 5-star reviews. We are proud to bring the Oribe haircare range to Malaysia with hopes of changing the way we think about haircare. Oribe brings awareness of the meaning of quality haircare - with its clean and modern formulations, without parabens and sodium chloride. The products are gluten-free, cruelty-free, color and keratin treatment safe and provide UV protection for the hair. On top of that, Oribe Hair Care's award winning packaging is designed to stand out from the rest. It combines fashion into our lifestyle through this remarkable event" said Emmelliz Tan, Head of Oribe Haircare Malaysia.
Kuala Lumpur Fashion Awards (KLFA)
The first ever fashion-focused award, Kuala Lumpur Fashion Awards (KLFA) was held last year in November. A prestigious fashion award that celebrates resilience and innovation displayed by both the industry and its designers.
Fashion Connect.22
And now set to launch this September is Fashion Connect.22 and which will continue to be a yearly affair. Fashion Connect is a day meet, greet, networking, educational platform hosted by AmBank to weave AmBank's product into 'Educational' talks with Industry Experts. As the world starts to reemerge, Fashion Connect Point 22 first inaugural as a fully physical event for its very first time with scores of entertaining and thought-provoking conversations and experiences with designers, industry insiders, and cultural figures, and more opportunities than ever before to connect with the fellow attendees.