12.11.2022
Dua Space, Sutra Foundation & Didance To Present Rentak Bumi 2.0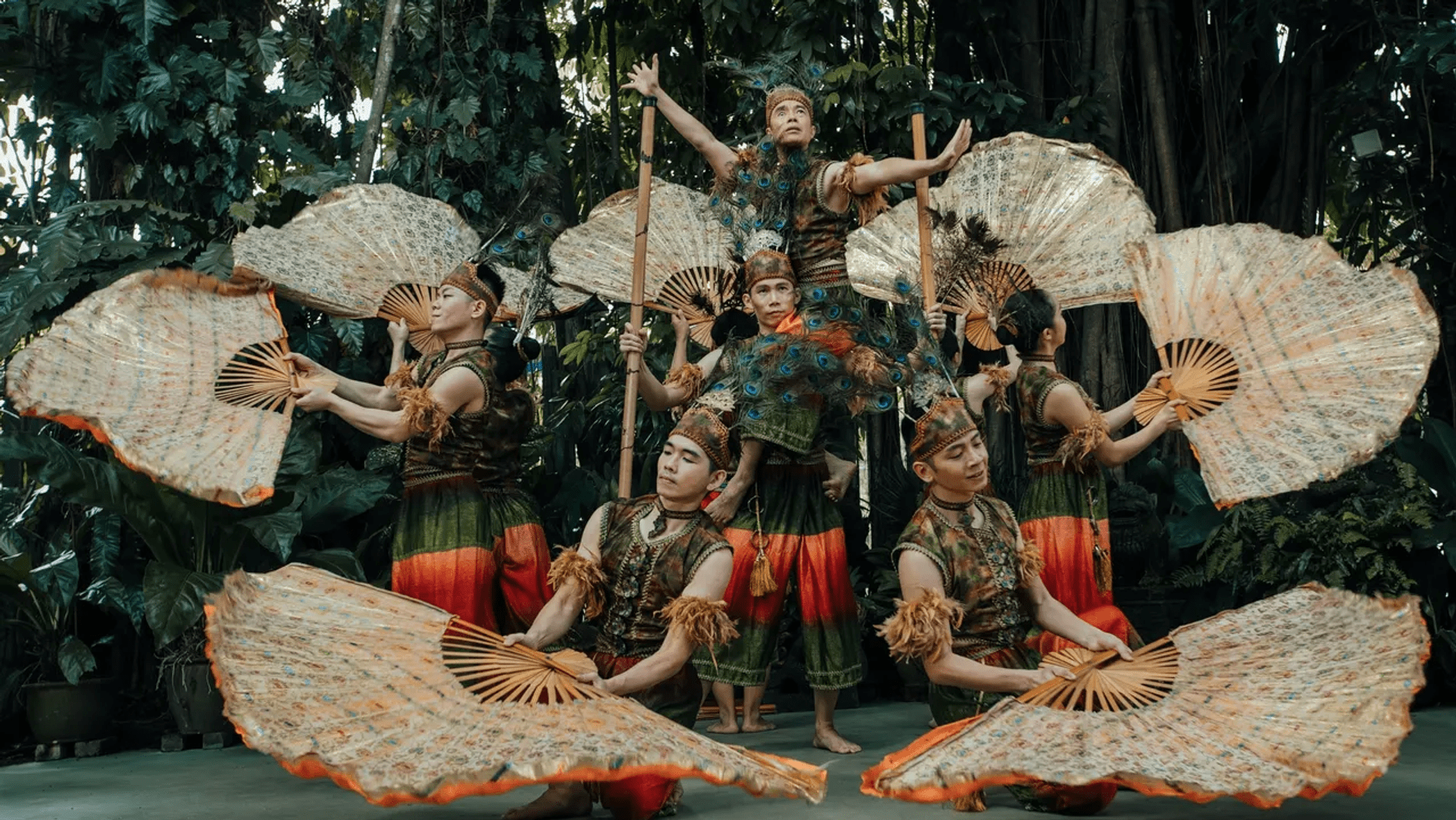 By Culture Editor
Exploring the rich cultural diversity and dance heritage of Malaysia, the showcase of collaborative efforts by 3 of the country's most prominent dance companies.
A dance spectacle not to be missed will be staged this December in Kuala Lumpur! Rentak Bumi 2.0 is an exciting multi-cultural dance celebration of contemporary, traditional and modern dances by three of Malaysia's prominent dance companies, Dua Space Dance Theatre, Sutra Foundation and DiDance. Rentak Bumi 2.0 is set to explore Malaysia's rich cultural diversity and dance heritage, to be performed by some of the best dancers in the country.
Last year, during the several Covid lockdowns, Sutra Foundation together with Dua Space Dance Theatre and DiDance, featured 6 virtual dance presentations under the title Rentak Bumi. These online presentations were created by Artistic Directors, Datuk Ramli Ibrahim, Zaridah Abdul Mallik, Anthony Meh & Aman Yap, as part of ArtsFAS, an initiative of Yayasan Hasanah. Rentak Bumi, the online efforts of these three prominent Malaysian dance companies, succeeded in bringing, national and international awareness, to the rich diversity of Malaysian dance during the challenging pandemic period.
This year, under the continual support of ArtsFAS 2022, the three dance companies will once again synergise their efforts in transforming these dance videos into a compelling live performance, Rentak Bumi 2.0.
Award-winning lighting designer, Tan Eng Heng will endeavour to lend his creative expertise to give Rentak Bumi the sensitive moods to light the exciting works featured in Rentak Bumi 2.0.
Rentak Bumi 2.0 will also conduct a special lecture-demonstration entitled - 'Behind the Making of Rentak Bumi' - in its effort to connect with performing arts students and those interested - This special lecture-demonstration conducted by the three artistic directors offers insight into the collaborative creative efforts of the 3 dance companies, behind the online staging of Rentak Bumi that led to Rentak Bumi 2.0. The lecture-demonstration session is scheduled at 6 pm just prior to the last performance on 18 December 2022.
Datuk Ramli Ibrahim, Founder and Artistic Director of Sutra Foundation, said "On behalf of Sutra Foundation, Dua Space Dance Theatre and DiDance, we invite you to witness the splendour of Malay, Chinese and Indian dance flavours, spanning traditional to modern dance at Rentak Bumi 2.0. We also welcome students of performing arts to the specially put together sharing session with the artistic directors behind the creative minds in making the dance pieces in Rentak Bumi. We must also extend our utmost appreciation to Arts For All Seasons (ArtsFAS), an initiative by Yayasan Hasanah to preserve and celebrate the arts, that has played a pivotal part in the execution of this event and allowing us to inspire new generation of artists in visual and performing arts. This dance extravaganza is one not to be missed by art enthusiasts and the Malaysian public in general as we close the year 2022".
Rentak Bumi 2.0
16-18 Dec 2022 | 8.30pm
Panggung Bandaraya DBKL (Jalan Raja, KL)
RM 30 / RM 50 / RM 100
Tickets available on www.cloudjoi.com
Behind the Making of Rentak Bumi
18 Dec 2022 | 6pm – 7.15pm
Panggung Bandaraya DBKL
Inquiry & Registration: +6018-2070310 / +6019-3331092
*Quota is limited and the enrollment is done on a first-come-first-served basis.
More info at:
FB & IG | @duaspace @sutrafoundation
Website | https://www.duaspace.com.my/
https://www.sutrafoundation.org.my/
Hotlines | Dua Space Dance Theatre +6018-2070310
Sutra Foundation +6019-3331092
Rentak Bumi 2.0 Program
Tryambakam by Sutra Foundation
This invocatory dance pays homage to Lord Siva, the nourisher of spiritual essence, and liberator of souls from the bondage of opposites. This is followed by 2 sabdas - the first sabda depicts the cosmic tandav (vigorous) dance of Lord Siva, swaying to the thunderous beats of his damaru (drums), while the second describes his destruction of the Triple Worlds of the demons. The two powerful sabdas awaken the dancer and audience to the presence of Siva.
Crossroad by DiDance
"There are moments in our lives when we find ourselves at a CrossRoad, afraid, confused without a guide. The choices we made in those moments can define our lives." ~ Lucas Scott
Ornaments of Grace by Dua Space Dance Theatre
Deliver the unique aesthetic of Chinese dance infuses among the diverse cultures of Malaysia. Just like the intricate structure of a flower, an ornamental, blooming beautifully and gracefully, nourished by the soil it grows.
Palu Sa-Iring by DiDance
As my dearest Mommy puts it "Dance helps to keep a culture of people alive by sharing and teaching younger generations the dances" To celebrate her believes and her wonderful life I created "Palu Sa-Iring." A celebration of dance among friends beating a small drum called Kompang. A traditional hand drum played in groups using interlocking movements to produce various composite rhythms with glorious dance movements.
Jinjoti Pallavi by Sutra Foundation
A pallavi implies elaboration in the exposition of both dance and music. The graceful and lyrical movements exquisitely complement the melody and intricate rhythm of the pallavi. Both dance and music are framed in complex patterns creating a matching marriage of dance and music.
The Pulse of Rainforest by Dua Space Dance Theatre
A fusion of various Malaysian dance. The use of rattan and fans to reproduce the significant images that resemble different ethnics, such as the peacock and hornbill, to present dance figures moving under the shades of green canopies, rising from this land of diverse quintessence.
About Dua Space Dance Theatre
Dua Space Dance Theatre is a full time professional contemporary dance company established in 1998 under the direction of Anthony Meh and Aman Yap. 'Dua Space' brings the meaning of sharing and interaction.
Dua Space focuses on creating dance productions to be showcased locally and internationally. Since then, the company has created various productions, such as 'TWO', 'Scream-A Response to Munch', 'The Legend of Hou Yi and Chang Er', 'Anak Malaysia', 'Black & White@VARIATION', 'DEN', 'Ancient Inscriptions', 'The Tree', 'MW-Men and Women Seeking for Love', 'The Lotus Sutra' and many more, ranging from ethnic dance to contemporary dance forms.
The company had performed in China, Korea, Japan, Hong Kong, Singapore, Taiwan, Pakistan, Indonesia, London, Philippines, India, Spain, and South American countries including Peru, Chile, Argentina and Paraguay, bringing Malaysian performing arts to the international performing arts scene. In year of 2018, Dua Space Dance Theatre collaborated with Hong Kong City Contemporary Dance Company (CCDC) at Istana Budaya with the title of "AMIDST THE WIND".
About DiDance
DiDance was incorporated in 1996 by Zaridah Abdul Mallik primarily as a centre dedicated to preserving the traditional Malay art forms especially in dance and music. One of the objectives of DiDance is to promote public awareness of both traditional and classical court dances and music through establishing it as a dynamic centre of performing arts by imparting training in the traditional, classical and contemporary techniques. Dancers of DiDance are groomed to honour and maintain the spirit of traditional Malay dance and music alive. The performing group has received national and international acclaim for their excellent and innovative dance presentations.
About Sutra Foundation
A bastion of traditional and contemporary arts, the Sutra Foundation is bequeathed to Malaysia by one of its most celebrated sons, YBhg. Datuk Ramli Ibrahim. Sutra Foundation carries into the future the thread of his vision and contribution to the Malaysian arts scene. The Foundation strives to develop the breadth and depth of Malaysian performing and visual arts through stimulating the creative spirit of crosscultural Malaysia. Various cultures come together here to forge a unique 'sutra' bond that fosters a universal yet distinctively Malaysian interpretation of the arts.