14.09.2022
A Profound 'Guardian Spirits' Art Exhibition By Helen Brahma
'Guardian Spirits' By Helen Brahma creates a series of profound visual art of divine creatures wrapped in traditional textiles.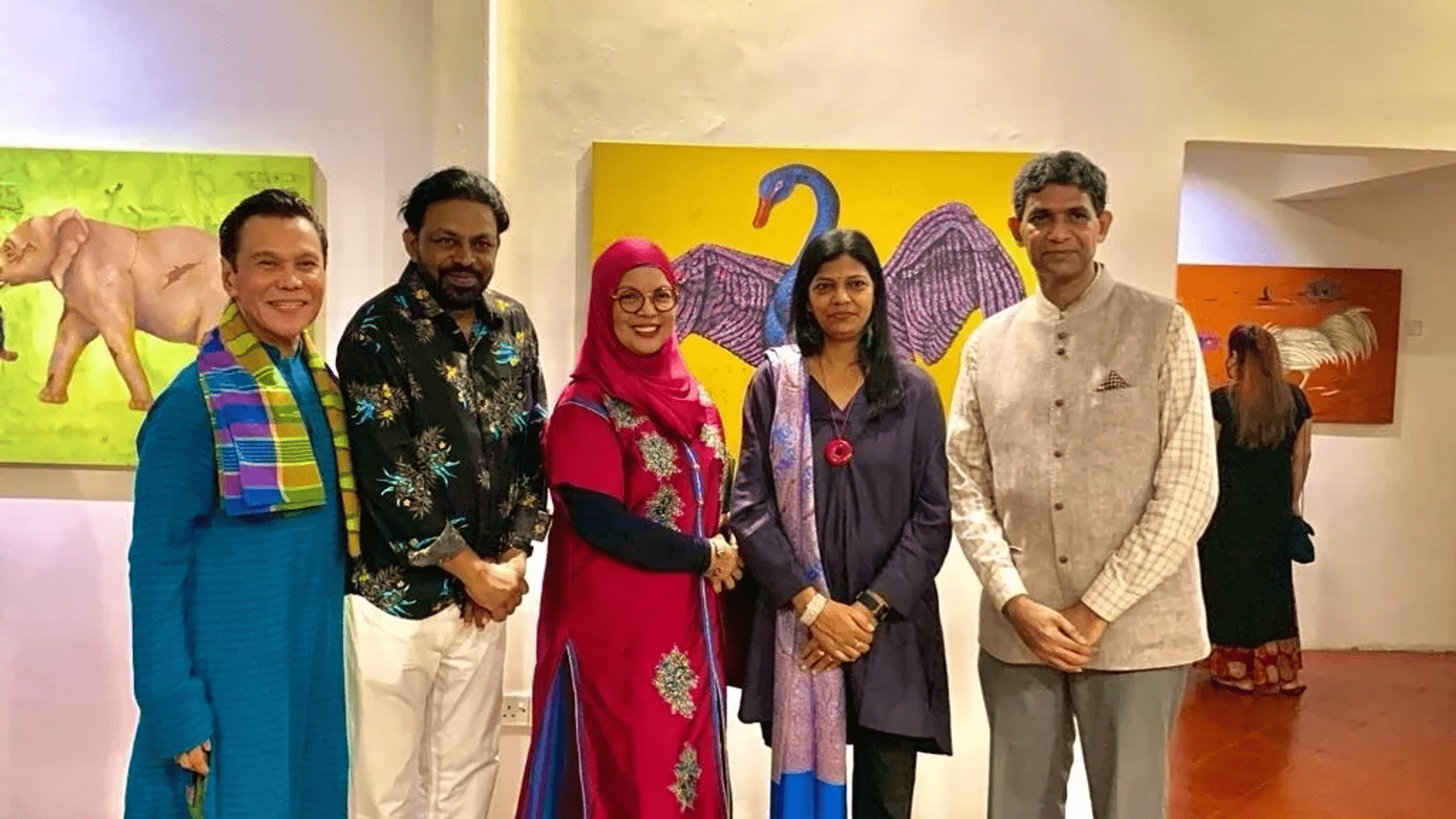 By Lifestyle Editor
As one of Odisha's (formerly Orissa – an eastern Indian state on the Bay of Bengal known for its tribal cultures and many ancient Hindu temples) most distinguished woman artists, Helen Brahma sees the subtle and symbiotic relationship between artisans and Nature, as a form of the empowerment of Beauty. This is evident from her latest work aptly titled 'Guardian Spirits' currently showing at Sutra Gallery, Persiaran Titiwangsa.
In choosing as subject matter the vahanas (vehicles) of the Hindu gods, Helen Brahma sends the message that these 'creatures' are an inseparable part of the Divine. They serve as alter-ego messengers of the celestial being and personify as 'Guardian Spirits of Nature'. Helen's works have a soft power message that speaks through their effortless yet complex theme.
The 53-piece series sang praises of the common man's integrated relationship with Nature and the need to cherish and protect it. With this inherent message, 'Guardian Spirits' places Helen Brahma herself as an ecological artist whose works combine textile - one of the vital indicators of human civilisation, within the realm of animal nature.
"Wrapped in traditional Odiyan woven textiles – specifically the Sambalpuri ikat fabric, familiar to, and loved by all Odissi dancers, the creatures I have chosen are really vehicles of the goddesses and personafication of the latter's creative energies, painted to achieve a kind of imperviousness against any evil intent. I am truly honoured to have my work showcased here in Kuala Lumpur and quite overwhelmed with the response I have received", says Helen.
According to Datuk Ramli Ibrahim, Chairman of Sutra Foundation and organiser of the exhibition, "Helen Brahma has conjoined myth and reality to create a profound visual art of great beauty. Her creatures, wrapped in rich Odiyan woven fabrics, take on a monumental presence and are given the dignity and magnanimous elegance as 'Guardian Spirits of Nature', to be adored as deserved on the highest pedestal. Sutra Gallery has presented many exhibitions through the years but nothing quite like this. We are very proud to have Helen's latest work that has traveled the world to finally land here in Malaysia. On behalf of Sutra Foundation, I must also extend my utmost appreciation to Arts For All Seasons (ArtsFAS), an initiative by Yayasan Hasanah to preserve and celebrate the arts, that has played a pivotal part in the execution of this event and allowing us to inspire new generation of artists in visual and performing arts, fans and arts enthusiasts and the Malaysian public in general".
Beginning her creative journey by painting still-lives and nature studies, the turning point in Helen's evolution was her introduction to the art historian Elinor Gadon who was studying temples in Orissa. Accompanying her on trips to historical sites across Orissa made Helen look at her immediate environment with fresh eyes. The reverence for womanhood manifested in the worship of goddesses captured her attention. At the same time, as a young artist who was also transitioning into the role of a mother, she was struck by the difference between the representation of womanhood in religion and reality. This observation became the foundation for her imagery that straddled the personal and the universal, the divine and the human, and the profound and the prosaic.
Helen's works are rooted in the culture of Odisha. The places of Sakti worship in the state, one of which is close to her hometown Jajpur, and the unique temple dedicated to 64 Yoginis in Hirapur near Bhubaneshwar particularly attracted her. Rather than see the deities as figures belonging to the divine realm, she drew upon her experiences as a woman and created abstract images that reframed the past in the context of the present.
The opening night, graced by His Excellency Shri BN Reddy, High Commissioner of India to Malaysia, also witnessed Sutra dancers including those from Sutra's Dance Outreach Programme, wearing the very Sambalpuri saris that wrap these animal series of Helen Brahma, performing a preview of Sutra Foundation's next major Odissi production, Jaya Ram. The monumental show will have it's world premiere on 21 September, and will be staged until 25 September, 2022 at Pentas 1, KLPAC. According to His Excellency Shri BN Reddy, "The event tonight is a clear testament of the good relationship that has been forged between India and Malaysia, and appropriately so as both countries celebrate its 65th anniversary of modern diplomatic relations this month".
The exhibition, 'Guardian Spirit' by Helen Brahma, will continue to be exhibited until 30 September 2022 at Sutra Gallery. Kindly email En. Jiman at sutrafoundation25@gmail.com to set an appointment for visitation.